Our shop has a range of items, such as t-shirts, key rings and gift cards. Funds raised from any purchase supports our conservation projects in the Coromandel.
To purchase any items from our shop simply email your order to info@meg.org.nz with your postal address
All prices are in NZ dollars and do not include postage & packaging.
Thank-you Cards
Whimsical gift cards designed exlusively for us by the talented Miriam Silvester. These cards feature native creatures Moehau Environment Group are helping to protect-the Kiwi, Weta, Skink and Robin. They are blank, with no message inside, making them perfect for any occasion!
Cards are professionally printed on sustainably-certified matte card. 120 x 120, each card comes with its own white envelope.
Purchase for $5 each or $16 for a set of four
DoC 200 Stoat trap
A powerful, effective and humane kill trap for stoats, rats and hedgehogs. Easy to set, the full stainless steel trap is housed in a plastic box designed to exclude non target species and provide public safety. The box also orients the stoat in the right direction to be caught in the trap, disguises the trap, and protects it from the weather. Surprisingly, tunnels also seem to draw a stoat's interest.
The new plastic boxes are lighter to carry, easy to clean and can be locked with a small screw. The unique lure holder can hold egg or any solid bait format by clicking and turning the housing.
Purchase for
Wooden housing $90.00
Plastic housing $100.00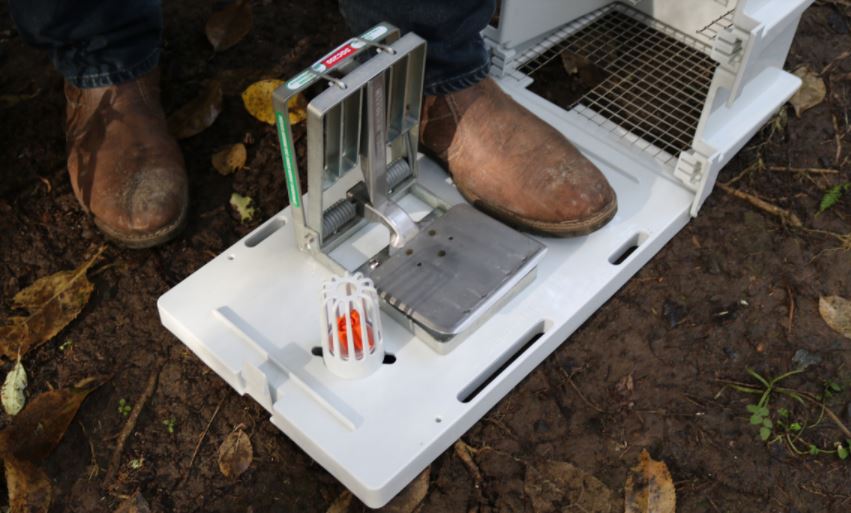 Rat-trap box
Effective and humane, the Victor Rat trap is a traditional wooden base rat trap that is double sprung for catching and holding rats. The wooden box protects the trap from the weather and is designed to exclude non target species and pig interference.
Purchase for $25.00 (or $20.00 for box without trap)
Moehau Environment Group T-Shirts
Male and female sizes available. T-shirt comes in olive green with orange Moehau Environment Group Logo on front above the words "ocean  bush  wind  spirit". Smaller logo also on left hand sleeve and back of shirt.
Purchase for $35.00
Coromandel Real Kiwi Country T-shirts.
This T-shirt has the 'Coromandel Real Kiwi Country logo printed only on the front. Male and female sizes available in white. Childrens T-shirts available in pink, blue, red and green. We also have a few 'Colville Real Kiwi Country' shirts available, but stocks are limited so be in quick!
Purchase for $25.00
All our T-shirts are of high quality, 100% cotton and printed locally in Coromandel Town.
Kiwiana Gift Cards
These come in five different designs, and are great as souvenirs or gifts. Choose from the Kiwi, Fantail, Tui, Weta or Tuatara. The cards start flat, 100x170mm, so fit in any standard DL envelope, making them easy to post worldwide. They come with easy to follow instructions on how to construct your 3D artwork. The finished size of the models are small souvenirs that can sit  on your desk, table or book shelf.
Purchase for $12.00
Fridge-magnets
These New Zealand made fridge magnets range are double thickness of ply, with cool engraving and have a strong circular magnet on the back so wont fall off the fridge! Choose from the Piwakawaka (Fantail) or Kiwi.
Purchase for $7.00