This project provides a 'buffer' of protection against reinvasion of possums into the Moehau Range and allows for the successful breeding of native bird species.
Moehau Environment Group has established three Possum control blocks. These are shown on the map below. Combining all of our possum and rodent control projects, there is over 3,200 hectares of land being managed for pest control, 90% of which is on private land. Click on the map below to enlarge it.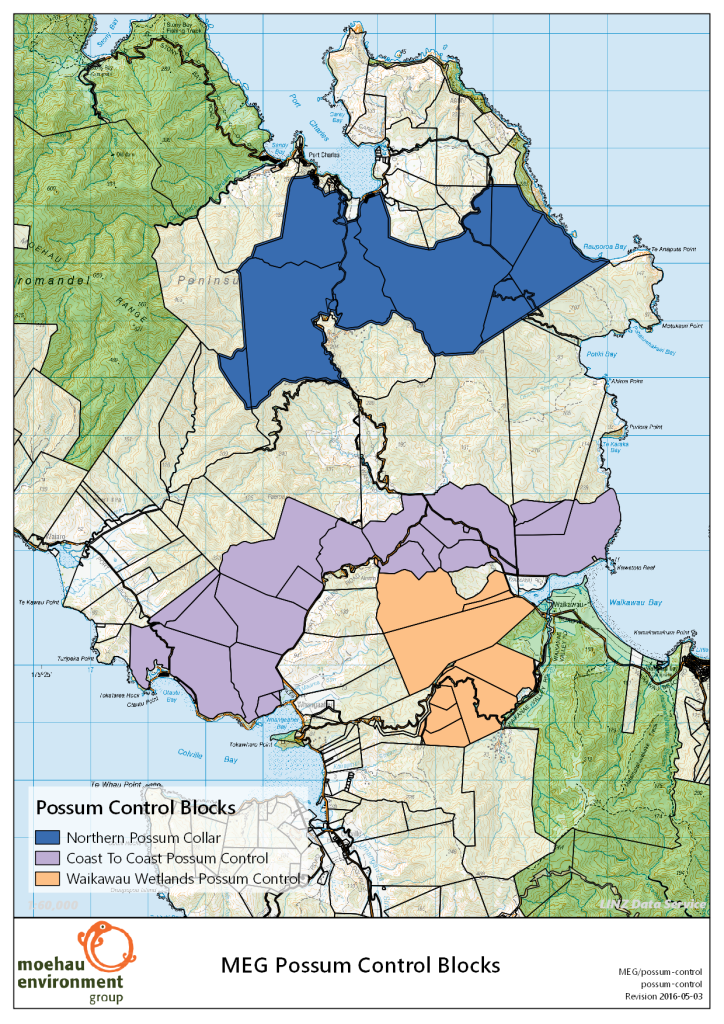 Possum control is carried out over all project areas as required, and typically occurs annually from July to September. Monitoring results after each operation show that rats and possums numbers are being knocked back to low levels. This has allowed regrowth of our native forest and increased the breeding success of resident native birds.
Our work links existing areas of possum control undertaken to the north by private landowners, Waikato Regional Council & the Department of Conservation. The focus of Moehau Environment Group has been to control possums primarily on private land with the intention of providing linkages in pest control projects to cover the area from the coast at Colville to the coast at Waikawau Bay.
Community and volunteer involvement continues to be instrumental in the success of this project and many local residents have also been employed to undertake predator control. Moehau Environment Group works in partnership with local landowners, and respects their wishes when selecting suitable pest control methods.
What's the problem?
Possums are an introduced pest, with no natural predators in New Zealand. Possums munch the best new growth on trees, and will return night after night to their favourite trees, eventually eating the tree to death. In the Coromandel they are causing areas of canopy collapse in the rata and pohutkawa forest and reducing the diversity of rare plants found in the area. Possums also harm many of New Zealand's native birds, eating their eggs and chicks, and competing for food sources such as berries and insects. Without ongoing control, many of New Zealand's protected ecosystems are at risk of continued biodiversity loss from possums.
Want to learn more about what we do? See Our Projects
Like to get involved? Click here.

Our Possum Control Projects are supported by the Ministry for the Environment & Waikato Regional Council.